I'm fascinated by the ramping up of the magnificent marketing machine preparing the way for a return to consumerism. Yes I'm looking forward to the freedom post lockdown but if we come out of the situation unchanged I think we need to ask some pretty big questions of our own humanity. It's great that so many people are considering whether the normal they once knew is worth returning to. There have been a few memes floating around and they are asking the same question in different ways and Russell Brand pretty much hits the nail here.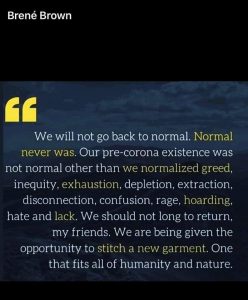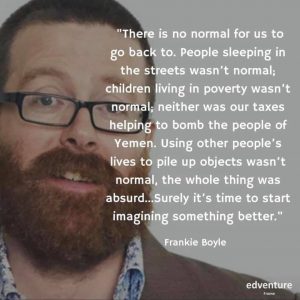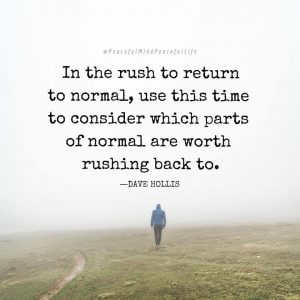 However what I want to suggest are 10 Hyperglocal tips towards a different future.
Glocal was a term mainly coined in business terms around how to be a global brand that rolls out local variations to suit a local market. Think Macdonalds offering different burgers in different cultures. Later the term was taken up by environmental activists exploring how to address climate change by thinking of the global climate crisis and acting locally. What I mean by Hyperglocal is about both the small elements of activism we can do locally but also share globally through social media networks etc so the first tip is just that:
1. Be Hyperglobal – share your thoughts and small acts of resistance to the normal, that once was, with the wider world. Whether you are a poet, a pray-er, a philosopher, a carer, a doctor, or a nurse, and let's be honest, the voices of nurses and bus drivers questioning the lack of PPE and dying as a result of their jobs, are some of the most heart wrenching stuff we will ever hear.
2. Be Courageous – call out the bad normal that once was. I love that Captain Tom Moore has raised over £10,000000 for the NHS and I'm not criticising him, but why the hell does the NHS have to be supported by additional charity, not to mention that we have been underfunding the NHS and undervaluing key workers for decades.
3. Be Aware – Take time to respond to the feelings you are having about questioning the normal that once was. Pause and reflect and throw those questions and angst out into the ether of social media, you might be surprised who responds and how this can equip you to move forwards.
4. Be Attentive – Notice the small things. People have talked about hearing the birds in Wuhan or seeing the mountain goats in Llandudno, notice this stuff in your locality and use it to resource your resolve when bombarded by busy-ness on the return to "normal" either by noticing those small things that continue, or their absence when they get squeezed out.
5. Question Language – In fact question most stuff that's media and marketing related. Already the marketing machine has shifted its message to being "with" you at this time, Amazon boss Jeff Bezos saw his wealth grow by $24BILLION since the start of corona, whilst many of their workers fear for their health, and when the chancellor suggests we need to get the balance between health and the economy, what does that really mean, and what is your local response to all this? Yes we might question the long term economic sustainability if we are trying to return to the normal we once knew but remember that normal was a mirage, so we don't have to play the same game any more. Research and support different economic possibilities, suppliers and use the questioning of language to help build some resistance to the lies we were once sold and will be re-ramped up as soon as lockdown ends. Indeed we are likely to see marketing messages about returning to "normal" as doing our bit to help economic recovery, when what we really need is a recovery package more like the 12 step programme to challenge our addiction.
6. Help others find a new vocabulary – keep reinforcing the message that the real key workers aren't the business bosses. Start locally to do stuff that helps by giving the supermarket workers a thumbs up, gifting something to the refuse workers, etc and share your ideas and actions with others. Look for the positives of the lockdown (I know for some this will be easier than others depending in circumstances) and frame your language around this to explain and remind yourself of different possibilities.
7. Act yourself into new ways of being – Learn different ways of doing, behaving and belonging. Do-Be-Do, don't rush back to the old ways but pause and reflect each time after picking up an old activity to ask if this is needed, helpful, healthy or simply a quick fix to the false normal. Take time to learn how to grow your own food, get an allotment, learn how to meditate, make that career change/move you have always wanted.
8. Live a different rhythm – many people are putting in different spaces into their day to help them cope with the lockdown, time to read, time to chat online with friends, experiment now with what works for you and join online groups or connect with friends to help you keep these up afterward.
9. Keep being Neighbourly and keep volunteering – If the lockdown has taught us anything it has been the rise of good community neighbourliness. From the practical support to simply chatting over fences. We too easily exist in social media echo chambers, but we rarely choose our neighbours, and so they are a great resource for hearing difference. Equally the massive response to the request for volunteers was great, and volunteering is a great way to open yourself up to newness and break out the bubbles you're in.
10. Be still and Still Moving – many people will have to for a time at least return to jobs they no longer really want to be in. But can we cultivate a stillness deep in our being that will carry us through as we take the steps we need to change to the new normal we might be dreaming of.