This post is kind of connected to previous one. This morning I was drawn to the idea (probably because I have been reading Them Merton again) that I needed to give language to what I was sensing. So the couple of sentences I developed and posted are below.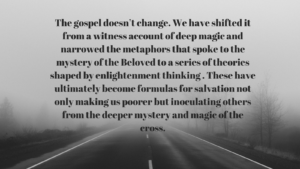 Since I wrote the original post on how doctrine shapes measures a few days ago I have been thinking about its broader implications and particularly how we use the bible in our missional context. Can we be playful with the biblical text as we sense the Spirits lead and how far do we allow the historic to influence us as we seek to develop translations that feel authentic to where the community and spirit is. So in the light of the image above rather than what are the boundaries, Im interested more in where do the boundaries come from and when we place these type of boundaries on our playfulness are we again in danger of reducing the text to a formula and losing the magic and mystery.
This is particularly pertinent to me at the moment as Im working on some text for the outdoor community Im a part of. Anyway I wanted to play a bit so wrote the passage below and wondered what people thought? You might spot the text it's based on, you could say it's a long way from the text, and so far you no longer recognise it? A prize of Kendal Mint Cake to anyone who does recognise it. You might say its a good or poor piece of faithful improvisation, you might see it as heresy, you may find it resonates comfortably or uncomfortably? But in doing so I want to know why, and where do those boundaries come from, and I would love to know is why do you have the reaction you do.
Creator Sets Free (Jesus) shows us that total peace is possible, a ceasing of strife, a ceasing of separation, a different relationship with time, space, nature, ourselves and others. A mystery revealing a peace between us, all tribes, and the whole of creation. A deep magic that moves us towards a total  connectedness so that we may know and be in unity, with one another and with all creation. United together under the Beloved, we are one body. Creator Sets Free comes as the breath of peace and so we are drawn close to the Beloved like we are drawn to the thin places where heaven touches earth. We all; human, tree, rock, creature are of the same spirit, no longer strangers, we are family. Creator Sets Free is our true north, and with all of creation we are now being weaved together and becoming a dwelling place for his Spirit, a renewed creation, a holy place.