Over the past few months I have been using an innovation technique of Pitch and Exhibit to further my thinking on Pioneering and Church. What has become clear over the past week or so is that what has been emerging as fresh expressions, and pioneering expressions of church has matured and is now firmly part of the landscape of the church in the UK and consequently we need a better way to describe the mixed ecology of church that is now present in so many communities and spaces. We have long said that Time Honoured church and Fresh Expressions have distinct needs, but we also know that they need each other. If pioneers have the gift of not fitting in, when we also see them as being a gift to the church, conversations and practice take a creative turn. We have experienced this in Cumbria and in my previous post I failed to adequately recognise just how far we have come. It is clear through church history that both modal and sodal expressions of church are required to help everyone flourish but more than that, when there are good relationships between the two, significant cultural systemic change could be achieved.  I think we are very close to a watershed moment where we can observe the church Cumbria and in places beyond and really begin to shed light on what a mixed ecology of church might look like and how it interconnects and relates to one another. The image below is an attempt to capture this. You can find a larger image as a jpeg HERE or  in a PDF here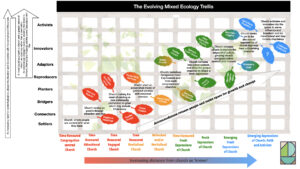 A few things to say about the Trellis:
We have been reaching for a more organic image than the spectrum and I hope this captures more the ecological element and interconnectedness of the Mixed Ecology. You can't see it amazingly well as I need to fade it but there is a vine that weaves and interconnects across the different elements, traditions and approaches. This is to try and help people see this in a more patterned and less linear way.
We have deliberately moved away from and taken out the specific pioneer words, recognising that we are in a new space. We all have parts to play and we are one Church in many expressions with different gifts and need one another. This is not to say pioneer language is redundant indeed it remains critical in creating the space and continued imagination we need in the institution to reach the breadth and diversity of the communities serve.
We have removed the sense of Venn circles for a more fluid and interconnected approach.
The left hand arrow is deliberately split into two to capture the learning from the original pioneer spectrum that at some point(s) we need a distinct and deliberate shift in posture if we are to reach deeper into our cultural context. This is particularly the case as you move towards Innovation and Activism.
Accommodators has been one of the words we have wrestled with. It is meant as generous space makers, leaders who see that Time honoured and Fresh Expressions need each other. Accommodators are leaders who are secure enough to let others flourish and generous enough to let people go to new places they may never travel, but nourish and support them. Accommodators are not those begrudgingly making room for new things, but those who set people free to build the kingdom in the now and not yet.
I have said "we" in the wording above as the pitch and exhibit approach I have used means this has been developed collaboratively and I am grateful to all who have contributed over the past months and weeks. There is a lot to be said about the relationship between the spaces and particularly about the relationship between the centre and edge. Indeed I would even say the language of centre and edge is now problematic as  in a mixed ecology centres and edges are hard to find but that's for another blogpost.